Although entering the spring, the outdoor temperature is still very low, many mothers basically do not take the children to play outside, but at home to play also pay attention to the safety of home, can not be seen and even get "home disease."
Warning one:
Improper placement causes injury
Senior designers believe that because children lack self-protection awareness, the most important thing is to avoid possible accidental injuries. Try not to use large areas of glass and mirrors in the room. The power socket needs to ensure that children's fingers can't be inserted. It is best to use a socket with a socket cover.
When purchasing furniture, the corners and handles of the furniture should be free of edges and sharp edges. The corners of the table and chair should be chosen to be round and obtuse, and there should be cotton sleeves and other decorative decorations on the corners to prevent children from chasing everywhere. Hit the sharp table and chair corner. In addition, the child is curious and active, and the furniture is likely to be the object of children's play. Therefore, the bolts and screws in the assembled furniture need to be firmly connected to prevent the children from disassembling themselves.
Warning 2:
Reject green spiny plants
Children's rooms also need to be green, so that they can get close to nature. The children's room is decorated with green plants. The plants are interesting, informative and exploratory. They can be potted with some foliage plants, such as: ball orchid, strelitzia, colorful leaf grass and pampas grass.
But experts also reminded that in the children's room, all kinds of stinging cacti and succulents are not suitable because they are prone to danger; and geranium, mimosa and lycopene, too much contact can cause The child's hair falls off.
Warning 3:
Children's room needs "green decoration"
In order to ensure that children's rooms meet environmental protection requirements, the key needs "green decoration". Children's rooms need not only scientific design in ventilation and lighting, but also parents are recommended to use environmentally friendly materials, and appropriate green plants and various flowers.
Experts pointed out that after the renovation, you must "open the window" to clean, about three months after ventilation. It is worth reminding that ventilation is an effective way to dissipate harmful substances, prevent bacterial growth and increase oxygen. Children's room decoration, improper placement, will make your baby suffer from a variety of "home diseases."
Warning 4:
Put the toy against the "cross-eyed"
Nowadays, some children suffer from "cross-eyed eyes", many of them are caused by children lying in bed for a long time, and improper placement of indoor items. When the child is awake, he likes to use his unclear eyes to search for the target. He looks around and looks at it once he catches the target.
The average baby's visual distance is only about 25 centimeters, so anything that is not close to him can't be seen clearly. Therefore, when parents buy toys, it is best to buy a toy that will rotate and can be hung on the baby's head, so that the child's line of sight will not always stay at one point. Moreover, the baby room needs to have a comfortable lighting environment, the lighting should not be too strong, the reflectivity of each side of the room should be appropriate, the light is soft and there is no glare.
Bar table and stool is a versatile casual option that can add character, color and texture to your kitchen or bar design - or simply offer a comfortable place to sit.
In recent years, barstools have become a popular alternative to traditional dining room chairs. Barstools appear recognizable and desirable for their height advantage over typical dining chairs. Typically, barstools give off a more casual dining vibe, especially when coupled with a counter-height table. Many homes also have high breakfast counters that also need barstools. Since every home is different, you need a barstool that matches your style and color.
· Rattan/textilene seat in a woven design for ultimate durability and strength
· Aluminum frame for a solid and sturdy foundation
· Powder coated for sophisticated looks to last
· Foot stoppers to reduce scuff marks to your flooring
· Cushions also available with 100% waterproof fabric.
Bar table and stool has many material options, rattan, textilene, aluminum powder coated etc.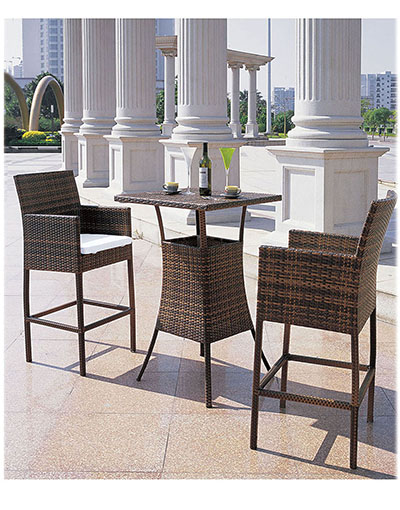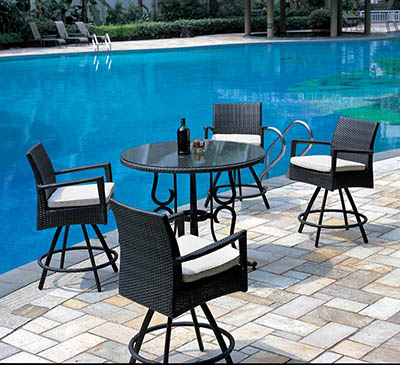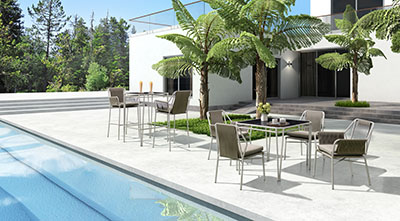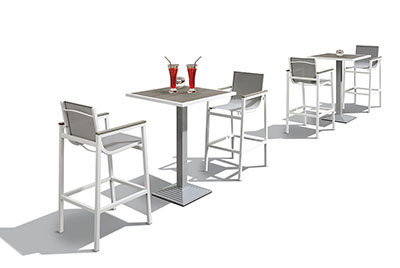 If you have any questions, please contact with us directly. Bar table and stools are produced by Golden Eagle Outdoor Furniture With High Quality and Good Appearance. Welcome you can visit our Factory.For any inquiry,Please send mail directly to us.
Bar Table And Stool,Rattan Bar Table And Stool,Outdoor Bar Table And Stool,Garden Bar Table And Stool
Golden Eagle Outdoor Furniture Co., LTD. , https://www.geoutdoor.com